If you are a decision maker in a translation company, this challenge is for you, and it begins with a question: will we work together? The question serves a purpose. What seemed to be unlikely in the world of translation companies has become the new norm.
Being prepared has become pivotal. In this new scenario, a network of partnerships appears to us as the line between success and failure.
Accept our challenge and take a moment to think about what you consider to be the most important pillar in your relationship with your best friend. Is it trust? The same applies in the case of business, because in the business world trust is also the basis and the starting point for a strong and lasting partnership.
But what is partnership to us? Before stating the advantages, there is a yardstick that cannot be neglected: those involved in a B2B partnership must, right from the start, put all the cards on the table.
Honesty must prevail over the intent of a partnership which leading purpose is the success of both parties. If this principle is respected, if the transparency in the relationship is absolute, then the success of a partnership is guaranteed.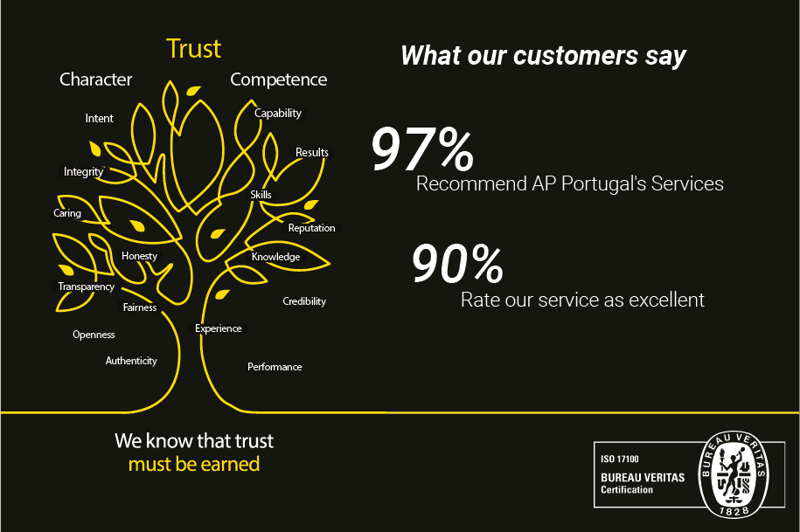 The question is: which partnership to choose?
The question now is different: which company should you choose as a partner in the universe of translation companies? If the answer is "the most famous", "the cheapest", "the largest", you could be making a mistake. Even if those answers are legitimate, the most appropriate answer differs and is much shorter: the best.
Even at the B2B level, you should always put yourself in the shoes of the customer browsing for a translation company, preferably a market leader in Portugal in language services such as conference interpreting and translation. AP Portugal is aware of the fact that the growing need for website translation, the importance of multilingual SEO and the crucial content localisation have raised the needs of language services beyond just a pair of languages.
What results do you want to get?
At the end of the day, what results do you want to get with this search? A translation company certified by the Quality Standard ISO 17100 and managed according to the Kaizen methodology? Certainly.
Certification is a guarantee of compliance with quality rules; the choice of the methodology is the desire for daily improvement and the final outcome is a competent work able to make a company like AP Portugal Tech Language Solutions the Portuguese market leader in several areas of language services, such as conference interpreting and translation.
AP Portugal Tech Language Solutions is a translation company able to continuously monitor its work. How?
By granting senior project managers real time follow-up of all their projects;
By complying with Quality Standard ISO 17100 to grow through quality;
By committing to Quality Assurance with the Kaizen methodology for sustained improvement.
A list of advantages
Bearing in mind the reasons for a "partnership with benefits" - without the weight of exclusivity - now is the time to learn about the advantages of working with us. The concept of globalisation should be a good starting point.
A translation company specialised in more than 125 language pairs.

An expert in three Portuguese variants: European, Brazilian and African.

A market leader in Portugal in conference interpreting, translation and overall language services.

A company certified by the ISO 17100 Quality Standard with a management approach based on Kaizen methodology.

A translation company specialised in Wordbee, SDL Studio, MemoQ and Memsource CAT tools.
In short, a partnership with benefits for all.
AP Portugal Tech Language Solutions has the Trust pillars in its DNA and wants to encourage other companies and organizations to reveal their character through the intent, integrity, and caring for its partners with the honesty, the transparency, the fairness, the openness and the authenticity that define them. Its goal is to improve the competence of organizations and translation companies, giving them greater capacity to leverage results through skills and knowledge with the experience and performance that demonstrate credibility and reputation.
Therefore, AP Portugal Tech Language Solutions clearly assumes its strong commitment to international associativity, it believes that knowledge sharing and global implementation of best practices will leverage translation companies. That is why most LSP and MLV choose AP Portugal Tech Language Solutions to partner with and to grow their business.
AP Portugal Tech Language Solutions, is an active member of the ELIA (european language industry association), EUTAC (European Union Association of Translation Companies), GALA (Globalisation & Localization Association), ATA (American Translators Association), ATC ( Association of Translation Companies) and ALC (Association of Language Companies).
This text was not written by a native English speaker, but by a language lover. However, all our language services are always provided by native speakers.
ABOUT US
AP PORTUGAL Tech Language Solutions is the expression of service and vision in the areas of translation, interpretation and communication technology services.
With offices in Lisbon and Porto, it is the only Portuguese company certified by both International Quality Standards ISO 17100 and ISO 18587, and also by DGERT as a training entity. Internationally renowned for its skills in the areas of translation, interpretation, transcription, localization, subtitling and proofreading, the company is also specialized in event and conference management, audiovisual equipment rental, and VRI - Video Remote Interpreting.
The company's intervention extends to the area of creative content production in any language, allowing AP | PORTUGAL to support companies and organizations through its Copywriting platform, also focusing on text, audio or video solutions based on Artificial Intelligence.
AP PORTUGAL includes the Artiga Center - European Centre for Amplified Events -, a facility which offers all equipment necessary for any type of event, be it hybrid, face-to-face or digital, besides being equipped for face-to-face or digital Team Building activities.
You can also follow us on social media: Facebook, LinkedIn, Twitter and Instagram.
Related Articles:
Translation, remote interpreting services, localization, search engine optimization and...
Related Articles:
Over two days, on the banks of the River Thames in London - at the heart of Greenwich...
Related Articles:
Translation, localization and search engine optimisation are today very common words....