Translation, localization and search engine optimisation are today very common words. They are the best proof that these are "exciting times" for those who see an opportunity in the concept of globalization.
Being global, however, poses real challenges to those who venture into new markets and consequently to companies that provide translation and localization services.
The rising importance of these companies matches the decisive nature of the content translation and localization job, which may account for the success or the failure of internationalization.
A translation and localization company with deep knowledge of the language, the cultural and social aspects, emerges in this scenario as the ideal partner for those who venture into new international markets and for those who want to reinforce their global position
---
MORE ABOUT TRANSLATION AND LOCALISATION
Multilingual SEO and website localisation: together they're stronger
The internationalisation journey as a website localisation ride
---
Which company should you choose?
The question is: which company should you choose as a partner in the universe of translation and localisation companies? If the answer is "the most famous", "the cheapest", "the largest", you could be making a mistake. Even if those answers are legitimate, the most appropriate answer differs and is much shorter: the best.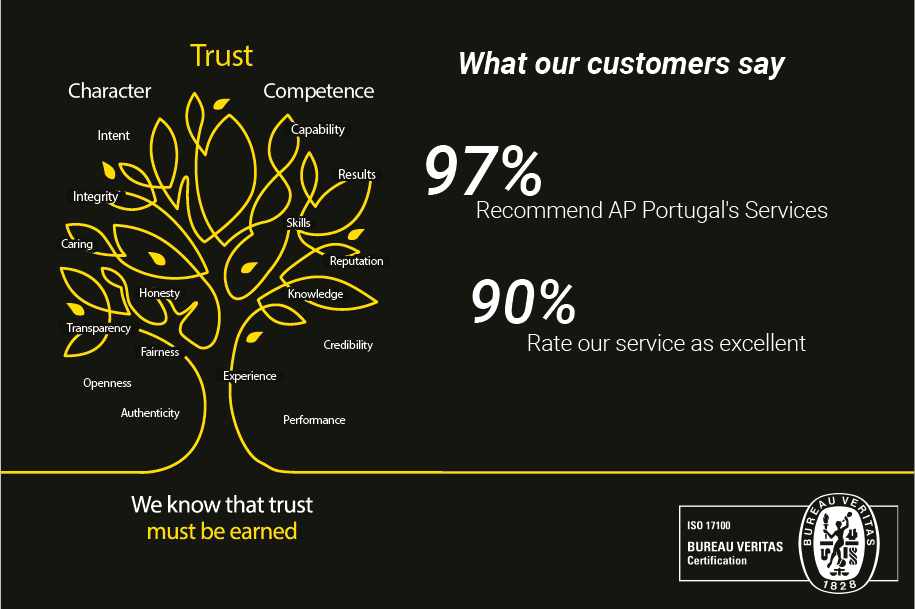 Even at the B2B level, you should always put yourself in the shoes of the customer browsing for a translation and localisation company, preferably a market leader in Portugal in language services such as conference interpreting, translation and localisation. AP Portugal is aware of the fact that the growing need for website translation, the importance of multilingual SEO and the crucial content localisation have raised the needs of language services beyond just a pair of languages.
A list of advantages
A translation company specialised in more than 125 language pairs.
An expert in three Portuguese variants: European, Brazilian and African.
A market leader in Portugal in conference interpreting, translation and overall language services.
A company certified by the ISO 17100 Quality Standard with a management approach based on Kaizen methodology.
A translation company specialised in Wordbee, SDL Studio, MemoQ and Memsource CAT tools.
What results do you want to get?
At the end of the day, what results do you want to get with this search? A translation company certified by the Quality Standard ISO 17100 and managed according to the Kaizen methodology? Certainly.
Certification is a guarantee of compliance with quality rules; the choice of the methodology is the desire for daily improvement and the final outcome is a competent work able to make a company like AP Portugal Tech Language Solutions the Portuguese market leader in several areas of language services, such as conference interpreting and translation.
This text was not written by a native English speaker, but by a language lover. However, all our language services are always provided by native speakers.
ABOUT US
AP PORTUGAL Tech Language Solutions is the expression of service and vision in the areas of translation, interpretation and communication technology services.
With offices in Lisbon and Porto, it is the only Portuguese company certified by both International Quality Standards ISO 17100 and ISO 18587, and also by DGERT as a training entity. Internationally renowned for its skills in the areas of translation, interpretation, transcription, localization, subtitling and proofreading, the company is also specialized in event and conference management, audiovisual equipment rental, and VRI - Video Remote Interpreting.
The company's intervention extends to the area of creative content production in any language, allowing AP | PORTUGAL to support companies and organizations through its Copywriting platform, also focusing on text, audio or video solutions based on Artificial Intelligence.
AP PORTUGAL includes the Artiga Center - European Centre for Amplified Events -, a facility which offers all equipment necessary for any type of event, be it hybrid, face-to-face or digital, besides being equipped for face-to-face or digital Team Building activities.
You can also follow us on social media: Facebook, LinkedIn, Twitter and Instagram.
Related Articles:
Translation, remote interpreting services, localization, search engine optimization and...
Related Articles:
Over two days, on the banks of the River Thames in London - at the heart of Greenwich...
Related Articles:
If you are a decision maker in a translation company, this challenge is for you, and it...